JARED MANCUSO
Jared Mancuso is a Philly based artist and purveyor of the next wave of alternative rock. Originally from Bucks County, PA, Mancuso developed musical prowess on multiple instruments and honed his songwriting skills in college, where he met his first creative partner Jared Bardugone. Together the two formed Strike of The Heart and later The Jared Project, which released and nationally toured 2 full length albums that blended the pop punk and folk stylings of the latter Jared with the bluesy riff-rock inspirations of the former.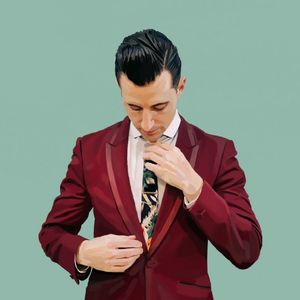 Jared Mancuso's solo ventures began in 2013 with his first album, A Very Pleasant Person.  Over the years he has circled in on his true sound: a mix of gritty blues and garage rock drawing from such inspiration as Weezer, The Black Keys, Jack White, and the Beach Boys.  His sophomore effort Superdope, entirely played and recorded by Mancuso himself, was released in 2016 to great acclaim, and garnered him an invite to the Launch Music Conference in Lancaster, PA 2 years in a row. 
Reviews for Superdope: 
"A damn near perfect album, top to bottom!" 
- JAMSPHERE MAGAZINE 
"If this don't make you love Rock 'n Roll again something is seriously wrong with you!" 
- MIDDLE TENNESSEE MUSIC 
"The melting pot of sounds has set the standard for the fun that rock 'n roll can be again." 
- INDIE BAND GURU 
Mancuso's 3rd album, Hype!, is due out late summer 2018 and has already been receiving ovations and praise in performances with this live band, the Very Pleasant People, across the Eastern Seaboard. Jared Mancuso's signature slicked back pompadour and perfectly tailored suits evoke a Don Draper meets James Dean vibe and, when juxtaposed with soaring choruses, infectiously intricate guitar riffs, and thought provoking lyrics, manages to build a sexy sonic tension that packs a punch both live and on the record.